Luxury class suites accommodating eight, seven, four, three and two people in Ischgl.

We have placed great emphasis on providing sufficiently roomy accommodation and most importantly of all, privacy, in our suites. As a result, each bedroom has its own ensuite bathroom with WC.
We provide cots and highchairs for children on request and we can also arrange for freshly baked rolls to be delivered to your door.
All the suites have been tastefully furnished in a clean-cut contemporary style and are accessed via lift.
As well as having fully equipped kitchens, the flats also boast wireless internet access and flatscreen TVs with cable and satellite television in every room.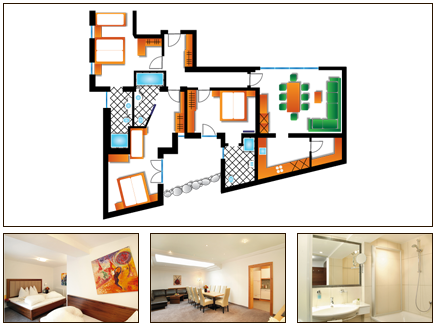 Suite - DOWN UNDER 105m² - 8 persons
Foyer
Kitchen
large, bright living room
1 Double bedroom with shower and toilet
2 triple rooms with shower / tub and toilet
parking lots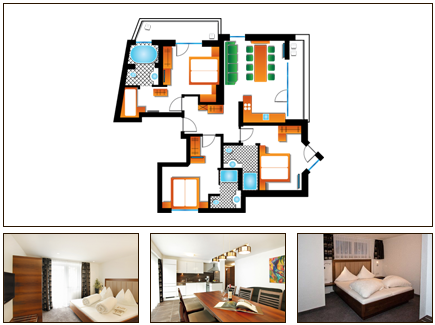 Suite - PANORAMA II 90m² - 7 persons
Foyer
large, bright living room mit dining table
Kitchen
2 doupble bedrooms with shower and toilet
1 triple bedroom with bathroom with oversized tub and toilet
balcony
parking lots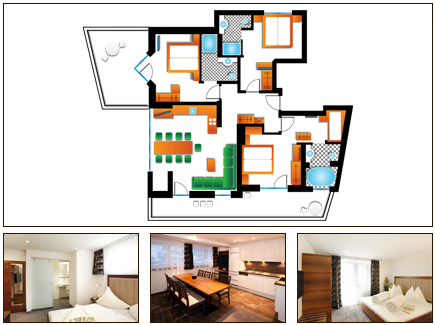 Suite - PANORAMA I 95m² - 7 persons
Foyer
large living room with dining table and sofa
Kitchen
3 double bedrooms with shower and toilet
1 triple bedroom with bathroom with oversized tub and woilet
Balcony
Terrace
parking lots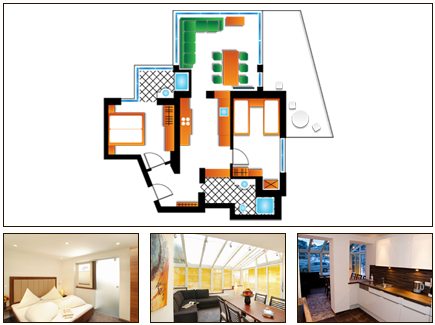 Suite - ATRIUM 60m² - 4 persons
Foyer
2 bedrooms
2 bathrooms with shower and toilet
living room with conservatory
Kitchen
Terrace
parking lot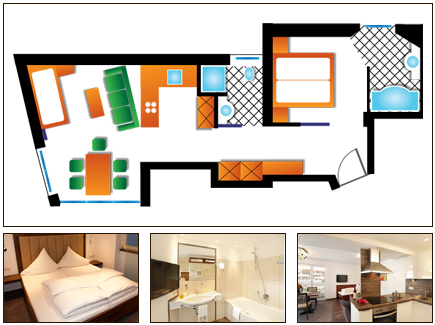 Suite - RIVERSIDE 50m² - 3 persons
Foyer
1 bedroom
1 bathroom with big tub
1 bathroom with shower and toilet
Kitchen
living room inkl Bett
Terrace
parking lot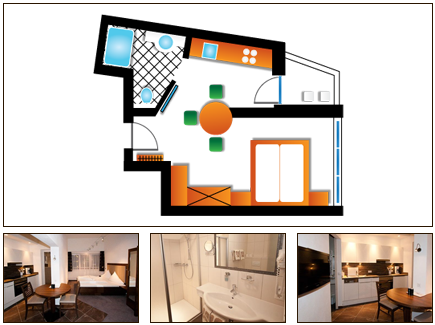 Suite - PRIVACY 25m² - 2 persons
Bedroom with double bed
dining table
Kitchen
Bathroom with large shower and toilet
Balcony
parking lot